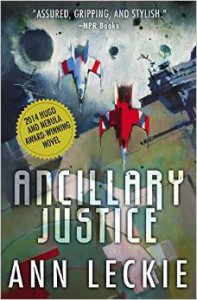 Please note that for this month we will be meeting on the second Friday of the month! The meeting will be held at the usual location at 1245 Allegheny Boulevard in Colorado Springs. There's a map on the homepage if you need directions. For December we will read the 2014 Hugo winning novel, Ancillary Justice by Ann Leckie. This novel picked up a batch of other awards along the way, including the Nebula, British Science Fiction, Locus and Arthur C. Clarke awards.
On a remote, icy planet, the soldier known as Breq is drawing closer to completing her quest.
Once, she was the Justice of Toren – a colossal starship with an artificial intelligence linking thousands of soldiers in the service of the Radch, the empire that conquered the galaxy.
Now, an act of treachery has ripped it all away, leaving her with one fragile human body, unanswered questions, and a burning desire for vengeance.