Meetings
First Friday Fandom meets the first Friday (unless we've rescheduled due to a convention) at 8pm. We generally buy 2-3 copies of our discussion books (except those available for free online!), which are available at the meeting a month beforehand.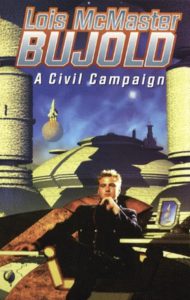 First Friday will meet at 8pm on April 6th at 1245 Allegheny Drive.
Our book this month will be Lois McMaster Bujold's A Civil Campaign. This entertaining novel is part of the Miles Vorkosigan series, but the books can be read out of order if you don't mind spoilers.
This month we will meet at 8pm at the usual location at 1245 Allegheny Drive. Our book theme for 2018 is humor in science fiction and fantasy.
We'll be reading William Goldman's novel that inspired one of the best movies ever – The Princess Bride: S. Morgenstern's Classic Tale of True Love and High Adventure. Goldman took an interesting approach to this book; pretending the story was one told to him by his grandfather, translated from an old Florinese novel written hundreds of years earlier by "S. Morgenstern". He describes his (fictional) efforts to find the book at rare book sellers. After finally getting a copy and reading it, he realized that his grandfather had been skipping over big swathes of political commentary and asides on historical fashion in order to tell him the "good parts version". Give it a read!

We will meet at our usual time of 8pm at the usual location at 1245 Allegheny Drive (which is unusual, given the recent variation in locations and dates. February sees the installation of new officers elected in January, although they are pretty much the same officers as before.
In keeping with the 2018 theme, our book for this month will be John M. Ford's Star Trek novel How Much for Just the Planet?. If you haven't read it yet, give it a try. It's a very silly but amusing read.
Please note our meeting this month will be at a different location than usual.
Don't forget our FFF Movie Trip to go see The Last Jedi on Tuesday, January 2nd at the Cinemark Carefree Circle theater at 6 pm
It's January, which means in preparation for COSine we will be meeting at the Hotel Elegante, at our usual time of 8 pm. See the map below for directions and details.
Our book will be a selection from our COSine Guest of Honor, Jody Lynn Nye. We will be discussing Taylor's Ark (Book 1) about a an epidemic that is spreading from space colony to colony. Dr. Shona Taylor, with her team of four-legged assistants sets out to find a way to stem the killer disease.
We will be meeting at the Hotel Elegante, our Con hotel, at 8 PM. We will be in the Telluride room. That's the room we use for gaming/readings, on the 3rd floor of the tower where we have our Con space. Take the elevators directly across from the lobby enterance, go up to the third floor, and turn right. It's at the end of the hall there. A map and directions can be found at the Elegante website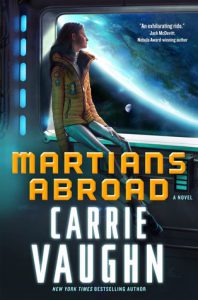 Please note our meeting this month will be at a different location and date than usual.
It's Ah-December, and we will therefore be holding our First Friday Fandom meeting on the second Friday of the month. The reason is that several of the officers will be unavailable on the first Friday. We will be meeting at the home of Rick Ayers at 5650 Flintridge Drive. See the map below for directions.
Our book will be Carrie Vaughn's Martians Abroad about a would-be starship pilot whose dreams are foiled when she and her brother are sent away from their home on Mars to attend school on Earth.
In November we will meet early to enjoy a night at the movies with the 1970 classic Colossus: The Forbin Project. Pizza will be provided, but please bring other goodies to enjoy with dinner.
This meeting will not be at our usual time or location. We will meet at 6pm at the home of Erin and Karen Jordan at 2906 Stonewall Heights, Colorado Springs.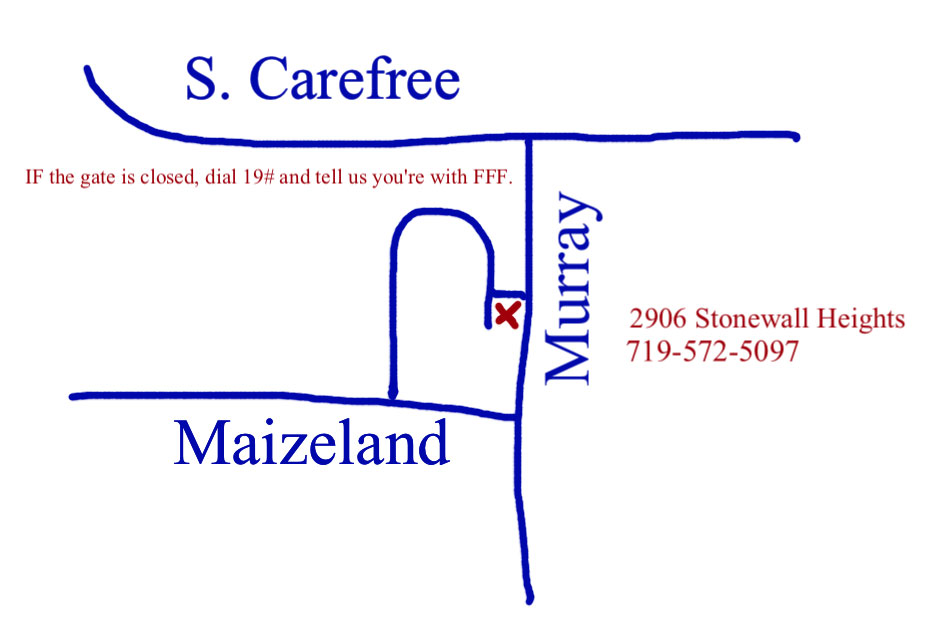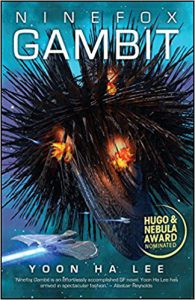 This month we will meet at October 6 at 8pm at the usual location at 1245 Allegheny Drive.
In October we typically read the Hugo Award winner for best novel for the year. In this case the winner is The Obelisk Gate by N.K. Jemisin. This book is the second in the Broken Earth trilogy. The first volume is The Fifth Season (winner of the Hugo in 2016), and the third, published in August of this year, is The Stone Sky. Because The Fifth Season won the Hugo last year, First Friday read the book (or some of us did) last October and do not wish to read the second book in the trilogy for this year. We all know that the second book in a trilogy is often the weakest of the three, although we could debate that at a meeting.
So to change things up, we will be reading another book nominated for the Hugo this year. Ninefox Gambit by Noon Ha Lee was ahead in the Hugo voting until near the end of the tally. For those who may not know, the Hugo voting is done by Australian ballot, so that you place your choices in first, second, third, etc. place. Once all the first place votes are tallied, the book with the fewest votes is out, and those ballots are sorted by the second place vote. This keeps going until a winner is determined. So our book for October will be Ninefox Gambit. With luck Mem will have obtained a couple of copies, and the book is available in the Hugo packet for anyone who was a member of the last Worldcon.
I found a very good review of Ninefox Gambit at Tor Publishing which explains that while the book might not grab you in the first few pages, it is worth the effort of sticking with it.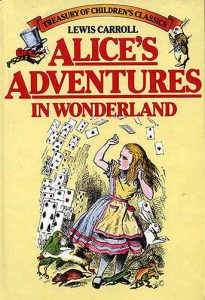 The September meeting will be Friday September 1st at 8pm, held at our usual location at 1245 Allegheny Drive.
This month we will be discussing another book that was not in the usual genre for the author, Alice's Adventures in Wonderland by Lewis Carroll. This pseudonym was used by English mathematician Charles Lutwidge Dodgson when he published the story in 1865. An earlier handwritten version was gifted to Alice Liddell who was the inspiration for the Alice in the story, along with her two sisters.
Important Note! The location for this month is changed.
The meeting this month will be hosted by Richard Karsh. We will meet at the Eagle Point Townhomes clubhouse, located at 301 Eagle Summit Point, Colorado Springs 80919. Here is the Google Map to the location. The hand-drawn map with notes is hereThe meeting time will be the usual 8 pm.


Our book this month will be The Humans by Matt Haig.
Goodreads states:
The Humans is a funny, compulsively readable novel about alien abduction, mathematics, and that most interesting subject of all: ourselves. Combine Douglas Adams's irreverent take on life, the universe, and everything with a genuinely moving love story, and you have some idea of the humor, originality, and poignancy of Matt Haig's latest novel.
---
We will meet early for our potluck barbecue
First Friday Fandom will be celebrating Independence Day with our annual potluck barbecue. The club will provide hamburgers, hot dogs, buns, and condiments. Please bring a side or dessert to share with everyone, and any other protein you might want to throw on the grill. Come as early as 4pm to hang out, but we'll start dinner closer to 6pm. Ted and Robin will bring some silly card games.

Our book for this month will be Chitty Chitty Bang Bang by author Ian Fleming of James Bond fame. We might get the movie as well, just for fun.
---